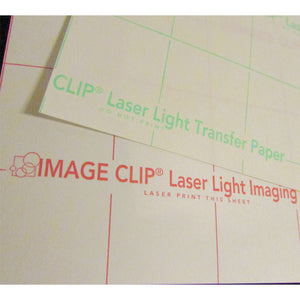 IMAGE CLIP TRANSFER PAPER FOR LIGHT GARMENTS
Laser Light Digital Transfer Paper
Image Clip Laser Light Heat Transfer paper is designed for the heat transfer of full color images with fuser oil or oil-less laser color copiers or color laser printers. Can be used on cotton, cotton blends, and polyester. Neenah's Laser Light Digital Transfer Paper makes it possible to create and sell personalized products using your black and color toner printers.
Decorate your apparel with NEENAH Heat Transfer Papers:
Excellent quality with good color reproduction.
Low cost of entry.
Durable art and messages that will withstand many wash cycles.
Hand and aesthetics that rival screen printing and Direct-To-Garment printing.
Ability to print on a wide range of substrates including; cotton, cotton blends, synthetics, denim, leather, mugs, hats, leather, wood acrylics, and glass substrates among many others.